Read : What is Jio Fiber, Hello friends, in today's article we will give you information about Jio Fiber. You must have heard about Jio Fiber. Jio Fiber is an internet system which provides high speed of net. When we are doing some online work, many times the work stops due to the slow running of the net.
In such a situation, you can work superfast with the help of Jio Fiber. Jio Fiber provides you free facility for one month. Many people on the Internet want to know about it. Therefore, complete information about Jio Fiber has been given in this article. So let's know what is Jio Fiber?
What is Jio Fiber?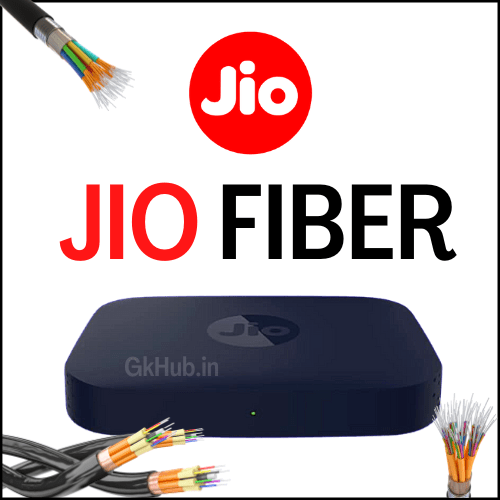 Jio fiber is a fixed line broadband connection, by which you can connect to your mobile or computer and run internet at super fast speed. You can browse or download or upload.
In this you get speed from 30mb per second to 150mb per second. In its small plan, you get a speed of 30 MB per second and in its big plan you get more speed.
In Jio Fiber you get free HD voice features, so that you can play unlimited video calls anywhere in India in HD quality. In this you also get high definition voice call.
You also get the facility of TV video calls in Jio Fiber. You can make video calls in HD quality by connecting your mobile to TV.
You get subscription of many applications in Jio Fiber for free. In which Hotstar is also available for free, in which you can watch IPL matches for free on Hotstar.
In Jio fiber, you have been given the feature of home networking, through which you can easily transfer any type of file from one device to another.
For example –
you can easily share documents from your mobile to computer or computer to tablet or tablet to mobile with the help of jio fiber. If you like to play games, then here you get the feature of gaming absolutely free. If you subscribe to a gaming plan on any other network, then you have to spend from 1000 to 1200. But here it is completely free.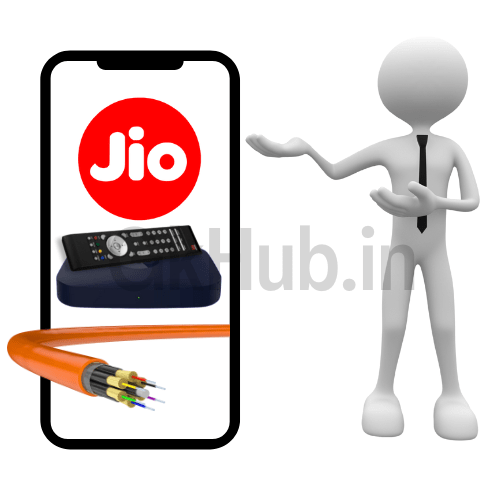 Jio Fiber Installation Process Online
You can apply online for Jio Fiber from mobile or computer. You can also apply through My Jio app. After 2-3 days of applying, Jio agents will come to your address and install fiber. You will have to pay Rs 2500 for the installation of Jio Fiber. When you return the WiFi you will get Rs 2500. Below you are given some steps. You can apply for Jio Fiber online by following these steps-
Step-1 Go to the official site of Jio.
Step-2 Click on Book Now.
Step-3 After clicking, a small form will open in front of you. Enter your mobile number in this form and click on Get OTP.
Step-4 An OTP will come on your mobile number. Enter the OTP and click on Verify.
Step-5 After verifying, an interface will open in front of you. Enter your PIN card at the top. Then enter your city name and full address.
Step-6 Click on submit button. Once submitted, the process of Jio Fiber installation will be completed.
In this way you can easily apply for Jio Fiber online.
Jio Fiber Plans
Friends, now we will tell you about jio fiber plans, if you use broadband then it is postpaid. You spend the whole month on the internet and at the end of the month you have to pay the bill. But jiofiber is prepaid, here you have to pay first. Then you can use it for the whole month,
You get plans from ₹ 399 to ₹ 8499 in jiofiber. First you get all these plans for free for one month. But at the moment this offer is going on, there is no information about how long this offer will last.
You can use it for a month and when you like it, then continue it and start paying money from the next month.
If you take Jio fibernet's plan of ₹ 399, then you can use net at 30MB per second and if you take its biggest plan of Rs 8499 then you will get speed according to 1GB per second.
When you take a plan of ₹ 999 or above only then you will get free subscription of 12 apps which includes Hotstar and you will be able to watch the upcoming IPL match on Hotstar on your TV for free.
Below is the list of Jio Fiber plans for you-
| | | | |
| --- | --- | --- | --- |
| Plans | Internet Speed | Unlimited Voice | OTT Apps |
| 399 | 30MBPS | Yes | NO |
| 699 | 100MBPS | Yes | NO |
| 999 | 150MBPS | Yes | 14 |
| 1499 | 300MBPS | Yes | 15 |
| 2499 | 500MBPS | Yes | 15 |
| 3999 | 1GBPS | Yes | 15 |
| 8499 | 1GBPS | Yes | 15 |
What is found in Jio Fiber?
If you take 399 or 699 plan of jio fibernet then you will get a wifi box which will be installed at any location in your house and you can use internet by connecting your mobile or computer in it.
But if you take a plan above ₹ 699, then you will get a set top box along with jiofiber box. By connecting it to your TV, you will be able to watch subscription of many applications for free.
Jio Fiber's big plan gets more data as well as more net speed, so if you have more data requirement then you can take their big plan and super fast net speed with free subscription of many apps. can also take.
How much does it cost to install Jio Fiber?
If you want to install Jio Fiber, then in Jio Fiber we get to see two schemes, according to the first scheme, we have to pay ₹ 1500.
In which you get 1 month free recharge with Jio Fiber connection. In the second scheme, if you have to pay ₹ 2500 for fiber. In this, apart from Jio Fiber, you are also given a set top box. Which you can connect to your normal TV and make it a smart TV.
If you do not like the Jio Fiber connection, then you can return it within 30 days. You will be refunded all your money. Apart from the mentioned charges, you do not have to charge any extra, if a technician comes to your house to install Jio fiber and asks you for money separately, then you should not give it to them because according to the Jio company you have to pay only one time (₹1500) or ₹ 2500) will be taken. After that you will not have to charge extra.
Features of Jio Fiber –
You can enjoy 1 Gbps internet facility sitting at home, which is very fast internet facility. Jio Fiber is a fast broadband setup, which gives 1 Gbps speed.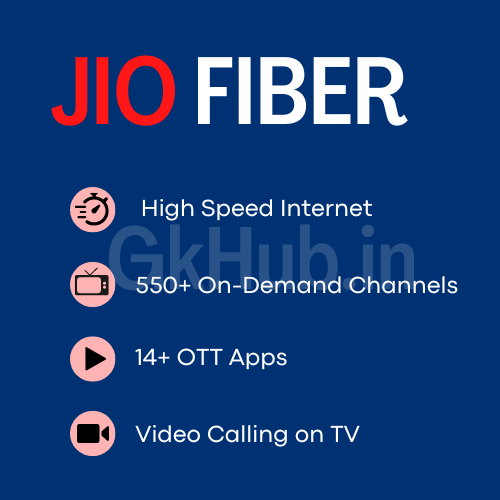 Inside it we get the facility of good quality WiFi or Jio Wi Fi mesh service and there are some features inside it which boost the speed of the internet which is as follows :-
Promotes WiFi area.
Connects seamlessly with Jio router.
Where the network does not reach, the network delivers.
We do not face any problem in doing live streaming.
It is also very easy to set up, just provide power and after that it will be installed.
HD voice or clear quality voice –
We can call or talk anywhere in India with good quality voice.
With the Jio call app, we can use the landline number on our smartphone.
We can use our landline or smartphone smartphone for intercom calling inside the society.
TV Video Calling –
We can do free video calling or conferencing anywhere in India with the help of Smart TV.
We can do video conferencing with any smart TV that is connected to Jio Fiber and we can make international video conferencing calls anywhere for free.
With Jio TV camera, we can make high quality video calls.
Security and Service Delivery –
In this, we can share our photos, songs, important documents and videos anywhere using Jio Home app, even if it is internationally, we can also send it there.
We can also do the same for home security by using the camera.
Gaming experience –
In this, we can play the game very well by experiencing any game good quality graphics and sound, most of us must have seen that nowadays PUBG and Free Fire are being used the most in the gaming world, children can also use it. Likes it a lot. He can use Jio Fiber to make his gaming experience better.
Physically Service of Jio Fiber
After the payment is done, some time is taken by them that they come after a few days to set up the Jio fiber connection.
Quality of wire –
In this, we are provided with good quality wire, which we also call GI wire, which is a good quality wire.
Router –
There are two dual band ports inside the router, two USB ports are available as well as LAN port and along with the router we get the telephone cable which we call RJ cable.
Fiber connector wire –
It is installed in the router, it is very thin which is connected in the router and with the help of this we get the facility of internet.
Jio Fiber Launching Date
Jio Fiber was launched on 5th September 2019. Mukesh Ambani had told about this a few days after the launch of Jio. Since then people were eagerly waiting for it. Mukesh Ambani had officially announced that Jio Fiber will be launched next month i.e. on 5th September. As many offers were given on the launch of Jio SIM, in the same way free service was also given to the users in the initial days.
Why jio fiber is better than other broadband?
Friends, we are going to tell you why Jio fiber is better than other broadband. It is profitable for you in every way.
Before the arrival of Jio, many other telcos used to take it from the public. After that it was closed. Similarly, it is going to happen in this too. Right now, many broadband providers charge very high prices from people.
For example, if we talk about Airtel, then for the plan with 50GB data and 40Mbps speed in Bengaluru, it is taking 799 per month. In delhi, for Rs 499, 100GB is being given at 8mbps speed.
Jio is going to give better service than all these. You can see by comparison in speed, price and everything. However, I believe that Jio may not be able to provide as much better service as it is claiming, but still it will be better than others.
FAQ
1.  What is Jio Fiber?
Answer- Jio fiber is a fixed boardband connection. With this you can run internet in super fast speed. It gives you the speed of 30 MB to 150 MB per second.
2. When was Jio Fiber launched?
Answer – 5 September 2019
3. Which is the best WiFi plan?
Ans- Jio Fiber is the best WiFi plan as it gives you Jio TV and other premium OTT apps. Jio Fiber provides you high speed internet up to 1 Gbps.
4. Which is the cheapest plan of Jio Fiber?
Answer- The cheapest plan of Jio Fiber is Rs 399. In this you get a speed of 30 Mbps per second. In this you get the facility of unlimited voice calls.
Conclusion
Jio Fiber will solve your internet problem. Its plans are cheap and good. You can buy any plan as per your wish. This article also explains how to apply for Jio Fiber online.
By reading this article you must have come to know about Jio Fiber. If you have any doubt related to this article then you can ask in comment, your doubt will be cleared.
If you liked this article, then share it with your friends so that they can know about Jio Fiber and take advantage of it.